Used for: Bathroom, apartment, RV
Type: Fixed Support Type
Type: High pressure shower head
Suitable for: The elderly, children, adults, men, women, pets, etc.
Style: Single Head
Shower shape: Round
Shower Head Feature: Water Saving Shower Heads
Material: ABS Plastic
Material: Advanced ABS Plastic
Is Smart Device: no
Installation Type: Hand Hold
Function 5: Durable and drop-resistant
Function 4: Water saving shower head
Function 3: Remove residual chlorine Shower
Function 2: Bio-active stones Shower Head
Function: Filter water shower head
Feature: Built-in Mineral balls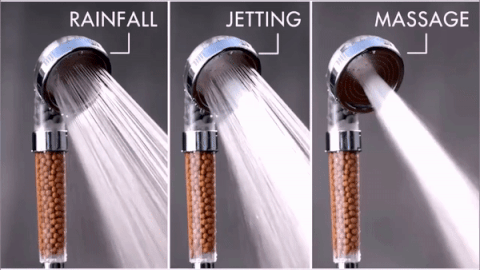 Bathroom Shower Head with On/Off Switch
Feature:
--Stop Button:On/Off switch design,control the shower water easily.
--3 Spray Modes: Rainfall/ Massage/ Jetting
--Filteration System : the filter beads design, effectively remove impurities in the water,good for skin and hair.
--Disassembled Design:It is convenient for daily cleaning.
--High Pressure Design: The revolutionary micro nozzle technology makes the outlet holes smaller and denser, increasing the speed of the water flow, thereby increasing the water pressure.
--Wide use: it is for child,adult, disabled, camper, pet, puppy.